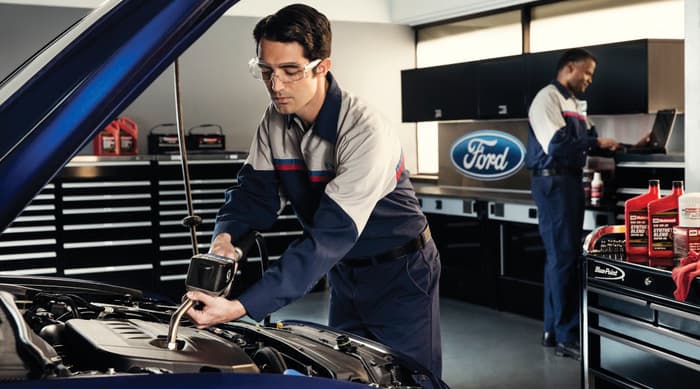 Oil Change Coupon - Bainbridge, GA
RiverBend Ford offers oil change coupons for our service center in Bainbridge, GA. Getting your oil changed regularly is a vital part of keeping your car, truck, or SUV running smoothly, so it's important to stay on top of your recommended oil change schedule. Be sure to check out our other service specials for more savings that you can accrue. When you're ready, make an appointment at our service center by calling us at (877) 294-9630.
THE WORKS® Synthetic Blend Oil Change and More*
Tire Rotation and Pressure Check
Brake Inspection
Vehicle Checkup
Fluid Top-Off
Battery Test
Filter Check
Belts and Hoses Check
*Up to six quarts of Motorcraft® oil and Motorcraft oil filter. Motorcraft® is a registered trademark of Ford Motor Company. See Service Advisor for exclusions and details. Offer valid with coupon. Expires 12/31/20.
RiverBend Ford


Oil Change FAQs
How often should I have my oil changed?
Frequency of oil changes depend on a variety of factors, including the kind of engine oil you use, the model year and bodystyle of your vehicle, and the amount of time you spend driving. To check your specific Ford vehicle's maintenance schedule, take a look at the Ford Motor Company service interval guidelines. The general consensus is that your oil will need to be changed every 5,000 to 10,000 miles. Contact RiverBend Ford to get an estimate on when your oil should next be changed.
Do I need synthetic oil?
It is recommended that you use synthetic oil, but not required for all Ford vehicles.
How can I check my oil level?
Lift the hood of your car and find the oil dipstick. The dipstick typically has a colored handle.
Take out the dipstick, wipe down the metal portion, reinsert it, and remove it again.
Your current oil level will be the highest spot on the dipstick that has oil on it.
If your oil level is between the "MIN" and "MAX" levels, your oil level is fine and does not need to be topped off.
If the oil level is at or below "MIN" on the dipstick, then it's time to schedule an oil change appointment at RiverBend Ford.
RiverBend Ford


Certified Ford Service in Bainbridge, GA

If you are interested in receiving maintenance or repairs from RiverBend Ford in Bainbridge, GA, check out our service specials compiled by our service center team. If you need a service, please schedule an appointment in advance by calling us at (877) 294-9630.